April 10
I discovered this fun blog via Death By Tsundoku Top Ten Tuesday is a meme originated by The Broke and the Bookish now hosted by That Artsy Reader Girl. This week the theme is:
This week the theme is: Books I Loved, but Will Never Re-read
Please note I am having a ridiculously busy year and am now running really late on this meme but as I love it I want to catch up so you are all about to be spammed with multiple posts as I finish my back log 😉
This is kind of an easy one.  My 'too read' list is so long that there are ton's of fabulous books that I have read but will never re-read as I have other things that would take precedent.
1:  This is How It Always Is by Laurie Frankel                               https://www.goodreads.com/book/show/29740478-this-is-how-it-always-is
Its about raising a rainbow child and I totally enjoyed it.  Couldn't put it down even 🙂 but its a book that once read gives no reason to pick it up again so I don't think this will be a re-read.
2:  Gone with the Wind by Margaret Mitchell                                               https://www.goodreads.com/book/show/18405.Gone_with_the_Wind
I truly loved this book way more than the movie, which is saying something as I have seen the movie hundreds of times!  Its my go to movie for in the heart of winter when its too miserable to leave the house. Why do I think I will never read it again then you ask.  Because its a really big book! Hard to hold up in bed or in the bath and if you accidentally nod off (who doesn't when its late and your knackered) then you run the risk of concussion when it smacks you in the face.
3:  Pride and Prejudice by Jane Austen                                                        https://www.goodreads.com/book/show/1885.Pride_and_Prejudice
Such a beautiful book. Funny, heart wrenching, romantic, old worlde.  Whats not to love about a Jane Austen book.  Why would I not read it again?  I found it hard going at times because you actually have to be awake and paying attention to read it.  Well worth the effort but, for me, not for a second read.
4:  The Hobbit by J.R.R. Tolkien                                                   https://www.goodreads.com/book/show/5907.The_Hobbit
I so loved this book.  I read it over summer break just after I turned 12.  It was probably my transition book, you know, the first one that you ever read that is loved by adults and can't be classed only as a children's book.  Why would I not read it again?  For the same reasons as #3.  My uncle who lent me the book when I was 12 would be horrified.  He makes a point of reading all the Lord of the Rings books at least every second year.
5:  The Handmaid's Tale by Margaret Atwood                                         https://www.goodreads.com/book/show/38447.The_Handmaid_s_Tale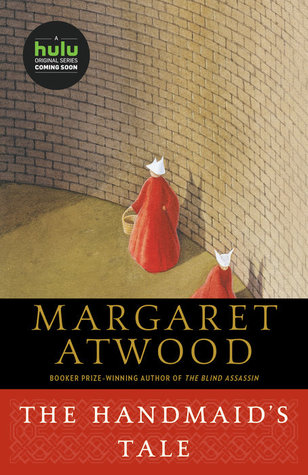 Wow.  What a fabulous, yet scary, book.  Scary because you can almost see this happening now.  Fertility rates are down in all western countries and there is a rise to power by mycologists in some countries. You can almost believe that something like this could happen in a small country.  Why would I not read it again?  Although beautifully written the pace is very slow and I struggled to finish more than 10 pages at a time through some parts.
6:  Four Fires by Bryce Courtney                                                                                https://www.goodreads.com/book/show/1016920.Four_Fires
Such an  engrossing family saga book that I read in the space of a couple of weeks and I have passed this book on to several people since reading it as I loved it so much.  Why would I not read it again? Same reasons as #2, its just too big to comfortably hold on to when reading.
7: Cleo: The Cat Who Mended a Family by Helen Brown                                          https://www.goodreads.com/book/show/7532027-cleo

If you love books about animals and families this is your book.  My daughter read it and then passed it on to me and I'm so pleased she did.  Why would I not read it again? I cried WAY too much reading this.  Such a beautiful story yet so so so sad at both the beginning and the end.  Consider yourself warned.  Buy tissues with this book.
8:  Primal Fear by William Diehl                                                      https://www.goodreads.com/book/show/969195.Primal_Fear
This was a real spell binding page turner.  I loved this book and, once again,  I was given to me and I have passed it on to several people.  Why would I not read it again?  The movie absolutely wrecked it for me.  In the opening 10 minutes the race of the Janet (she was African American in the book) and Goodman (he was white New York Irish ex boxer in the book) had been swapped and that annoyed the hell out of me.  I REALLY hate it when movies mess with things like that! Makes me so angry!
9:  Go Ask Alice by Beatrice Sparks                                                        https://www.goodreads.com/book/show/1094593.Go_Ask_Alice

My mum recommend that I read this book when I was in my early teens so I did and loved it.  I re-read it several times during my teenage years.  Why would I not read it again?  I found out it was a lie!!!
Go Ask Alice is based on the actual diary of a fifteen-year-old drug user.  It is not a definitive statement on the middle-class, teenage drug world. It does not offer any solutions.  It is, however, a highly personal and specific chronicle. As such, we hope it will provide insights into the increasingly complicated world in which we live.  Names, dates, places and certain events have been changed in accordance with the wishes of those
concerned.
The Editors.
They lied to me!!! I can't stand a lie.  If they had portrayed it as a story that could be true in countless homes or as a cautionary tale for teens then I would be fine with it and still love the story but THEY LIED TO ME!
This was a forced read for 5th form English and I was determined to hate it . . . but I didn't . . . and that annoyed me.  It was the second time in the same year that the teacher did that to me and To Kill a Mockingbird will always remain my favorite book so this poor sausage has been relegated to read it, loved it, won't read it again pile.
That's all for this one 🙂 All covers are courtesy of Goodreads.
Ka Kete Ano xx